NEW COMMUNITY CONTEST ALERT - 500 $AUDIO, OFFICIAL RELEASES, AND AN NFT ALL UP FOR GRABS!  
 @DreamEater - Crosstalk (Yes, THE ENTIRE ALBUM )  
Link to the album, where individual stems can be downloaded from each song: https://audius.co/dreameaterism/playlist/crosstalk-album-pick-your-poison-remix-contest-56999  
Genre: Future Funk  
Submission deadline: End of the day on Wednesday, August 11th  
BPMs: https://pastebin.com/dShBzn6j  
You may remix as many songs as you'd like for multiple entries!  
The rules are pretty straight-forward. Pick whatever songs from the album you would like to remix; as many or few as you like, and link the final results to the respective tracks ON AUDIUS using the "This is a remix" upload function. (NOT THE PROMO MIX)
From @DreamEater: I'm interested in hosting this remix contest because after 14 long years of writing primarily instrumental-only music, I have finally found my voice (literal vocal accompaniment) in my use of talkbox/vocoder. I have attached downloads of the a cappella/instrumental stems to each track on the record (uploaded on Audius). My hope is that participants are able to choose any of the 7 songs on the album to remix in order to participate. 
Learn more about what Crosstalk means to @DreamEater and how it came to be: https://pastebin.com/SYwdA3w6  
Prizes listed via the flyer below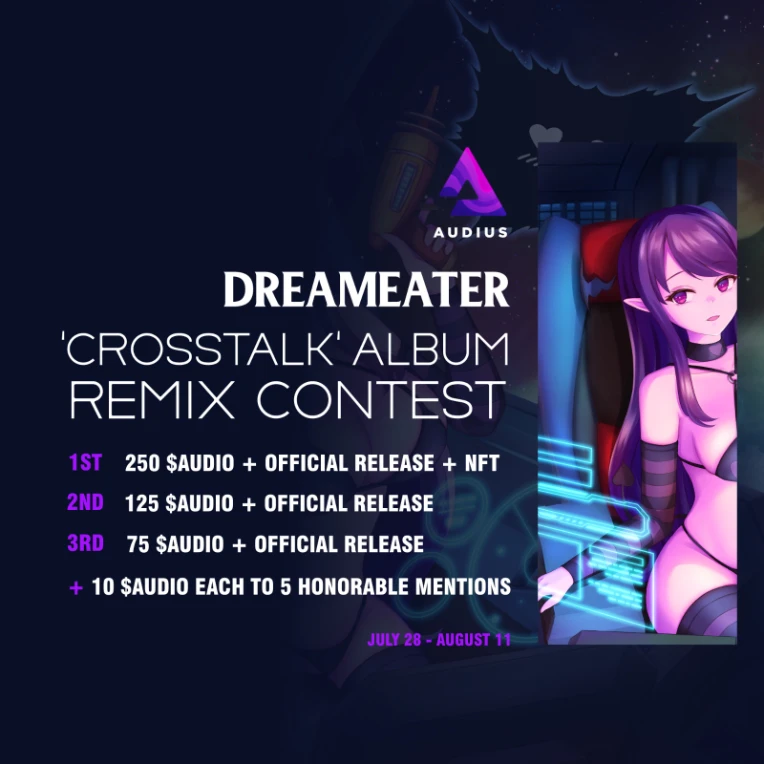 For full details please visit https://discord.gg/audius
The $AUDIO tokens for this remix contest were provided by the AUDIO Grants Committee. If you are interested in receiving a token grant to help incentivize participation in a remix contest or other Audius-centered community event, apply for up to 2500 $AUDIO via the link provided: https://airtable.com/shrMtQColSwK0IE3N  
Follow @DreamEater and featured artists @deathpanda @Starlight Distraction on Audius:  
 https://audius.co/dreameaterism